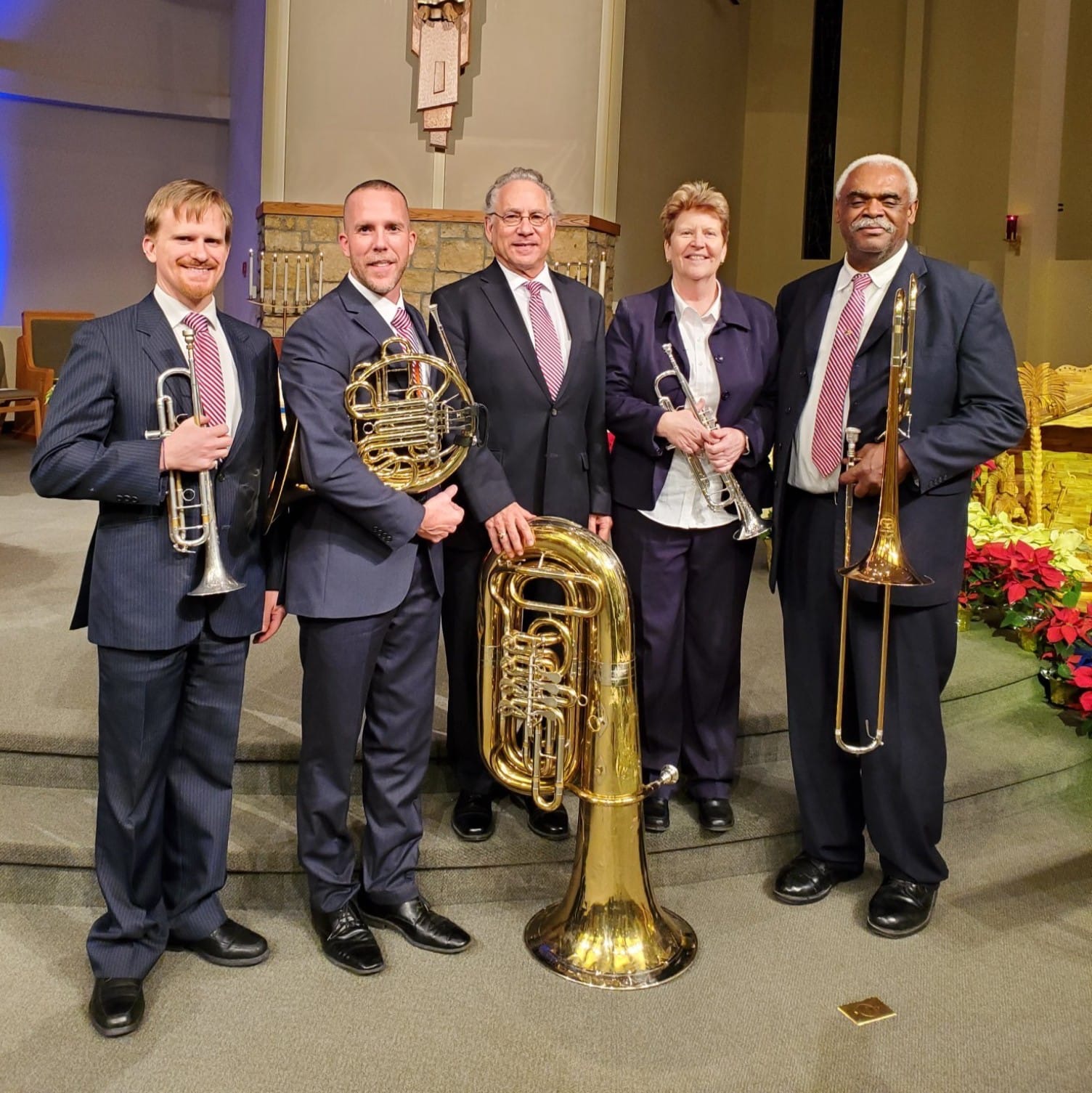 Lawrence Eden (Tuba) is the co-founder and leader of the M Street Brass Quintet, which is founded with trombonist, Kurt Lucas in 1978.  Larry is the Quintet's main arranger and currently has 50 of his arrangements published.  Larry is a freelance tuba and bass player and has done extensive work in musical theater. 
Mr. Eden earned a BM degree from The University of Miami (School of Music) in 1973 and a Master of Music Education from The American University in 1975.  Mr. Eden is currently retired from a 36 year teaching position with Prince George's County Public Schools where he taught Jr. High, Sr. High and Elementary Instrumental Music.  Mr. Eden studied music theory and composition with Alfred Reed, Frederick Fennell and Clifton Williams and arranging with Keith Laurent. 
Larry frequently freelances in the Washington D.C. metro region and is a retired Instrumental Music Director from Prince George's County Public Schools.
Kurt Lucas (Trombone), a native Marylander, is a co-founder of the M Street Brass Quintet. He has lived a life of music having played trombone professionally since 1966, and has academic degrees in Music Education (B.Sc., University of Maryland) and Music Performance (M.A., The American University). Kurt began teaching in the Montgomery County Public Schools where he retired in 2011. Soon thereafter, he became the Band Director at the Center for Visual & Performing Arts at Suitland High School in Prince Georges County, MD.
​A member of the American Federation of Musicians, Local 161-710 since 1974, Kurt has played bass trombone with The Washington Jazz Battalion and union gigs with Aretha Franklin, Lou Rawls, the Temptations, Gladys Knight, and Stevie Wonder, among others. In addition to being a member of the Olney Big Band since 2018, he currently performs with The Smithsonian Jazz Masterworks Orchestra, and has played tenor trombone with the M Street Brass Quintet since 1978.​
Terry Alvey (Trumpet) teaches Instrumental Music at Walt Whitman High School in Montgomery County, MD. She also conducts the Potomac Valley Youth Orchestra's Wind Ensemble.
Jacob Dalager (Trumpet) is a freelance trumpet player, composer, and educator in the Washington D.C. area pursuing his D.M.A. at the Catholic University of America under the tutelage of Chris Gekker. He is principal trumpet of the Washington Chamber Orchestra, frequent guest with the National Philharmonic, Post-Classical Ensemble, and Symphony of the Potomac. Dalager is a founding member of Parkway Brass. He also is a member of the touring world fusion rock band, Black Masala. In October 2016, he made his US concerto debut with the Austin Symphony Orchestra.

Prior to moving to D.C., Dalager lived in upstate New York and performed with the Rochester Philharmonic and Symphoria. From 2012-2014, lived in Singapore and performed with the Singapore Symphony, National Taiwan Symphony, Malaysia Philharmonic, Metropolitan Festival Orchestra, and The Philharmonic Orchestra. He was a soloist with the Jesselton Philharmonic, and Te Deum Chamber Orchestra. Other highlights include concerts with the Moscow Ballet, Kitaro, James Morrison, and at the Singapore International Jazz Festival and World Youth Jazz Festival.
Dalager graduated from the Eastman School of Music in 2012 with a Master of Music in Performance and Literature and an Arts Leadership Certificate. That same year, he was a semi-finalist in the National Trumpet Competition. While at Eastman, he played classical trumpet in the Wind Ensemble, Philharmonia, Musica Nova, and Opera, as well as lead trumpet in the Jazz Lab Band, Bitchin' Kitchen, and Ritmo Seis. In 2011, he was a finalist for the Morton Gould Young Composers Award.Jacob graduated Magna Cum Laude from St. Olaf College in 2009, receiving Departmental Distinction in both Trumpet Performance and Music Theory/Composition. During his tenure there, he played with all the top instrumental ensembles, and, in his spare time, he founded and led the widely popular jazz quintet, The Shamen. His senior year, Jacob won the MTNA State Competition and the Schubert Club Competition Second Prize, premiered his composition "Goin' Up the Line" with the St. Olaf Band, and soloed with the St. Olaf Band and St. Olaf Orchestra.
As a composer, hi pieces have been commissioned and performed by the St. Olaf Band, Ancia Saxophone Quartet, Lyrica Chamber Orchestra, and The Shamen (jazz quintet). He was a finalist for the ASCAP Morton Gould Young Composers Award in 2011. Dalager earned his B.A. in Music Theory/Composition at St. Olaf College in 2009 where he studied with Drs. Timothy Mahr and Justin Merritt. His music has a tonal foundation with rich jazz- and blues-influenced dissonances and a driving rhythmic undercurrent inspired by world music traditions.
Jacob has taught music since he was a high schooler. In his private studio he specializes in trumpet but also teachers all brass instruments. His students have been accepted into honor bands and prestigious college music programs and gone on to be professional musicians. For two years, Dalager lead the teaching division of Partners in Brass, teaching at four different international schools in Singapore and coordinating logistics between the company the schools.
As a classroom teacher, Dalager is in his eighth year as a college ear training and theory teacher. Dalager taught Ear Training I-IV at St. Olaf College, Musicianship I-II at the University of Rochester, and is current a Teaching Fellow at Catholic University, teaching Graduate Harmony Review and Theory Fundamentals during the school year and Harmony and Ear Training and Sight-Singing I-IV during the summers. His approach emphasizes making abstract concepts relevant to performing musicians and incorporating popular music into the curriculum.
Jon Eising (Horn) is the Instrumental Music Department Chair at James Hubert Blake High School in Silver Spring Maryland. Blake is home to the Signature Program for the Arts and Humanities for Montgomery County Public Schools. After graduating from Gaithersburg High School, he went on to get his Bachelor's Degree in Music Education from The University of Oklahoma in 2002. While at OU, Mr. Eising marched in "The Pride of Oklahoma" and performed in the school's top ensembles. Upon graduation, he was employed for two years by Noble Public Schools in Noble, Oklahoma as a band director where he worked at the middle and high school levels. During this time, Mr. Eising was also employed by The Oklahoma City Philharmonic and played professionally in various other orchestras throughout the state and region.
In 2004, he moved back to Maryland to begin work on his Master's Degree in French Horn Performance at The University of Maryland. While at UMD, Mr. Eising studied with Marty Hackleman, Principal Horn in The National Symphony Orchestra, and worked alongside Rich Sparks and "The Mighty Sound of Maryland Marching Band" for three years as a graduate assistant. Mr. Eising has been on the music faculties of The Academy of the Holy Cross, The Academy of St. Cecelia Youth Orchestra, Montgomery County Youth Orchestra and is the site host for the Washington DC Area Music in the Parks Festival. Each year since 2006, Mr. Eising has served as conductor for various Montgomery County honors bands and orchestras. He is a member of The National Band Directors Association, Phi Mu Alpha National Music Service Fraternity, The American String Teachers Association and maintains an active private studio of the area's top young horn players. Mr. Eising has two beautiful daughters and enjoys spending as much time as he can with his family.